NES64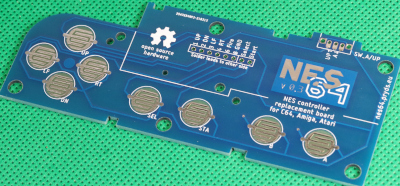 The NES64 is a replacement PCB for use in an existing controller for the Nintendo Entertainment System (NES). It brings one of the most popular and arguably best of the early game console controllers to the Commodore 64, Amiga, Atari and other retro home computers.
The NES64 can be installed in either an original Nintendo controller or in a currently produced clone controller. Either way, it may be installed in a way that keeps your working (and perhaps even antique) controller fully restorable to its original state.
It features an optional switch that lets you jump in most games using the A button (Nintendo style) instead of the up-arrow (Commodore joystick style). The switch can be installed for external or internal access. The former is destructive to the casing, whereas the latter is not.
News
14 August 2021
While on the NES64 you can switch between the A button and D-pad Up for jumping in games, Edwin Steiner found a clever way to mod the board in a way that will still give you those two options, but also give you a third option letting both buttons work at the same time.

He was kind enough to write a very comprehensive Howto on his process, so please go check it out if you would like to modify your board yourself, or if you would just like to see how he did it.
5 April 2021
All orders from a month ago should have reached their destinations by now. If not, your package should be very close. However, please remember that worldwide shipping is heavily impacted by the current world situation (viruses, countries exiting unions, raw materials running out, boats getting stuck in canals, shortage of containers, etc., etc.).

In the meantime, I have received new supplies of PCBs, casings, cables etc., so if my previous stock sold out before you got the chance, now is the time. The kits now come with cables that already have plugs mounted on them, which should make assembly much easier as well as increase compatibility with some vintage computers.

The board itself has only had minor changes since the last batch. Remember that as always, this is open source hardware so you are free to have the board printed yourself from the gerber files.

Thank you for all your support!
28 February 2021
I am deeply grateful for all the attention directed towards the NES64 after being featured on Adrian's Digital Basement! Thank you for ordering, for suggestions and ideas, for all the nice words, and of course to Adrian for reviewing the NES64 in the first place.

I am doing my best to keep up with shipping out all the orders. If you already ordered, please know it's being taken care of. However, because of the sheer quantity of orders, it might take longer than normal for me to ship your order. I am working as fast as I can.

If you did not get a chance to order before I sold out, I will definitely re-stock as soon as new parts arrive. Please join the waitlist on the store page to get an email as soon as new stock arrives.

Thank you again!
How it works
Contrary to the Nintendo Entertainment System (NES) controller, there is no logic in a Commodore/Atari style controller/joystick itself, and hence no logic on the NES64 board. It is a simple series of buttons each of which is connected to its own pin and a common ground pin. All logic is handled inside of the computer.
A controller for the C64 etc. was typically a one-button joystick, whereas the NES controller had two action buttons, A and B. The NES64 assigns the joystick button to button B on the NES controller, because in NES games, button B is typically used for actions similar to what the joystick button would do in C64 games (e.g. shoot, open, interact, etc.).
The NES64 allows you to use a switch for toggling between which button works as the joystick's "up" direction: The actual up direction of the D-pad, or the otherwise unused button A. In some C64 games you jump by moving the joystick up, while on the NES you typically use button A to jump. This switch allows you to imitate the NES behaviour, even in C64 games that were made for the one-button C64 style joysticks. This works great in games like The Great Giana Sisters and even the recent C64 port of Super Mario Bros.
How to get the NES64
There are several options. The NES64 is open source hardware, so you can get the PCB files from GitLab and send them to your favourite PCB manufacturer. You can see a list of the necessary parts in the instructions.
Or you can buy the PCB as a kit directly from the author.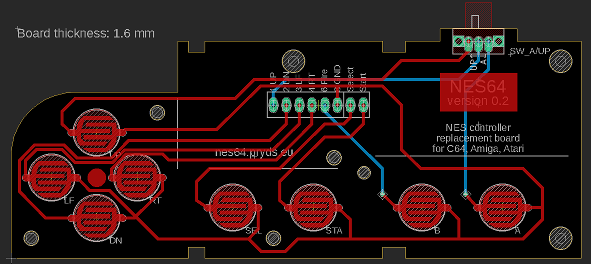 Mentions